The international Symposium on Impact Engineering, ISIE 2019, aims to establish a professional dialogue between cultures, scientists and industry engineers on the field of experimental and computational mechanism with focus on impact and other dynamic problems.
The 2019 edition was hold in Gmunden in Upper Austria on 2-5th July 2019, the location offers a relaxed atmosphere, a beautiful environment, and a high-class service for the conference. Cidaut was there as Coordinator of Steel S4 EV project, presenting the preliminary results obtained in this project funded by the European Commission in the frame of the H2020 initiative. The presentation was focused on the crash results taking advantage of the participants' expertize in impact engineering, mainly coming from Asia and Europe, but also with representative from America. The advances on the vehicle structure design and the evolution of the crash behavior from the starting of the project to the nowadays situation was presented.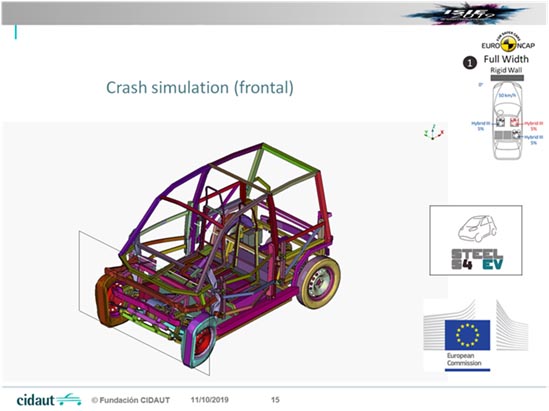 The project has covered the first year out of three, its main target is putting high strength steels at the forefront of a new trend in electric vehicles: light vehicles with three or four wheels that comply with crash regulation and with more restrictive Euro NCAP demands. Weld joint design and welding methodologies research to maintain the material properties in the weld area, assuring the robustness and long term durability.
Cost effective low-investment manufacturing will be achieved by a modular and flexible structural design: a complex 3D skeleton frame of welded tubes, bent with high accuracy using programmed laser cuts will enable the production of different vehicles sharing the same tooling.